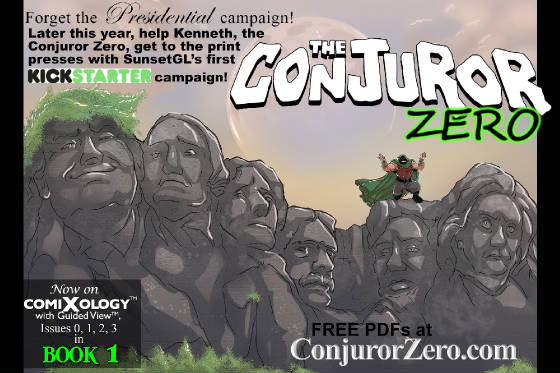 presents


FREE Previews
The Conjuror Zero -
Issues Zero, 1, 2, and 3!
For a limited time, while we promote
comiXology's Guided View™,
safely download action-packed PDFs of
And, the super-charged
Binge reader? View the first
graphic novel in a single, supersized PDF: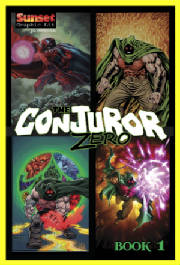 Download PDF of
We recommend Single Page View to take full advantage of
Ash's spectacular 2-page spreads.


UPCOMING: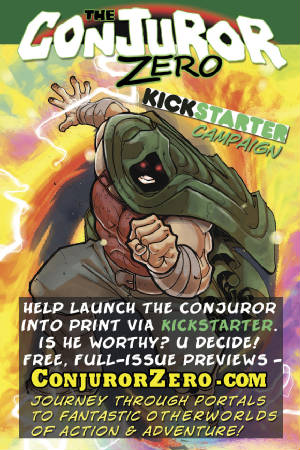 A KickStarter campaign to launch Issue 1 into print!
Along with a great piece of art from Ash Jackson.
We wanna hear from you.
Write in and let us know what you know!
Stories from the ConjurVerse:
Plotting is going 'low-steam ahead' on a series of one-shots under
the working titles -
The Conjuror Zero:
Around the Edge of the World
- and -
Tales of the OtherWorlders:
OtherWorld Pirates of the Terran Seas.
PROFESSOR KRUSHER, Kenneth's closest confidante,
has secrets of his own. A preview of his
Krush Suit
generated lots of excitement at the cons.
Professor Krusher will have his own story -
along with the Angels and the
rest of the mythical misfits stranded on Earth -
in the upcoming anthology,
Tales of

The Art of Issue 1
The Art of Issue 2

THANKS!

On behalf of Writer/Creator
Ryan Zambrano
and Artist
Ash Jackson
-
Thank you for joining us on the ground level of the Conjuror's epic adventure.
3-minute MOVIES of Ash's original art for
They had been on YouTube,
with Evanescence soundtracks
,
but I guess the licensing expired. :(
Still, a great way to browse the storyline.
Print copies of Issue #0, then known as
Kenneth the Conjuror,
may still be found in
the best local comic shops in Florida, NY, and California.